Questions? Ask us in the comment section below!
Archive for November, 2014
Friday, November 28th, 2014
With the cultural phenomenon of superheroes seemingly taking over, it is no surprise that an automaker might make a vehicle inspired by some of the heroes. While many superheroes have their own iconic vehicles for taking down baddies, none of them are practical in the real world. So Kia set out to design a Special Edition of the highly-regarded Kia Sorento, inspired by the X-Men and their most recognizable member, Wolverine.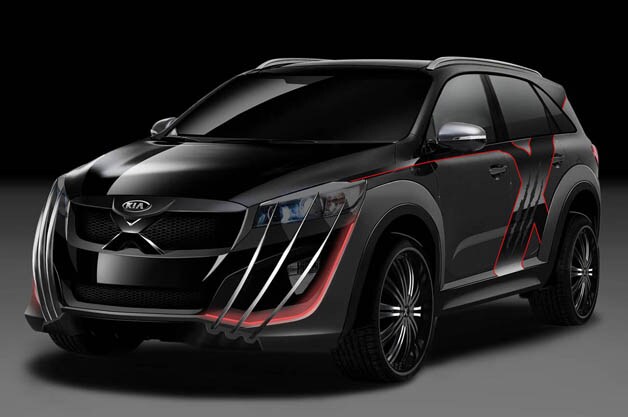 One look at the vehicle and the inspiration will be clear, with claws carving up the fascia and X's all over the body, it is truly a vehicle designed for a superhero. With its abundant technological features for both entertainment and safety, the 2015 Kia Sorento is something Bruce Wayne would envy. From ventilated seats to the Back-Up Warning System, the Kia Sorento has features to keep you and yours entertained, comfortable, and safe on the road.
If you'd like to learn more about the 2015 Kia Sorento or any of the other vehicles in the Kia lineup, come and see us at Motion Kia of Mount Olive in Hackettstown, NJ. Once you've browsed our available models and found the one that fits you best, we'll help you get on the road in no time. Soon you'll be commanding the road like Gambit controls his playing cards.
Thursday, November 20th, 2014
There are a lot of family vehicles to choose from
out there on the roads, folks, but there's only one minivan that offers that
gorgeous Kia style, boasting tons of interior room that's spacious and
comfortable front-to-back, and jam-packed with technology and features to make
every drive a joy for you and all your loved ones: the 2015 Kia
Sedona! Stylish and just plain fun to drive, this one may
take you by surprise and become your new favorite:
Get a closer look at the Sedona or anything else on
your list from the new
Kia selection when you come in to our
Hackettstown, NJ location today. We're ready and waiting to
show you everything your preferred model has to offer, front to back, top to
bottom, so you can leave smiling no matter what driving decision you make. We
hope to see you in the near future!