Questions? Ask us in the comment section below!
What Entertainment Options are on the 2019 Kia Optima?
By Product Expert | Posted in Kia Optima on Thursday, August 23rd, 2018 at 7:46 pm
2019 Kia Optima Technology Features
When it comes to exceptional technology and entertainment features, there is no automaker quite like Kia! All Kia vehicles are packed with exceptional technology features and systems, designed to give you the best possible entertainment and information. The new Kia Optima is a vehicle that demonstrates that clearly! Continue reading to learn about this great vehicle!

2019 Kia Optima Infotainment Features
Many of the technology features found on the new 2019 Kia Optima fall under the infotainment or entertainment category, and all of them are guaranteed to be of the highest quality. These features include Satellite Digital Radio, HD Radio, and more, which will deliver you the best possible entertainment, information, and more. This includes over 100 channels of music, sports, news, and other great information and entertainment.
Additionally, the new 2019 Kia Optima will also feature Android Auto™ and Apple CarPlay™, which allows you to connect your compatible smartphone to your vehicle directly! This allows you to access your phone's programs, applications, and more, right through your vehicle!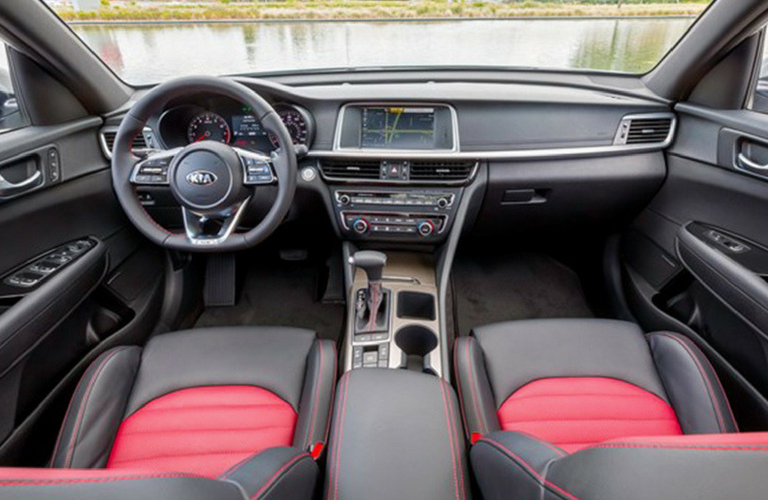 2019 Kia Optima Technology Features
The 2019 Kia Optima also has an abundance of technology features, many of which directly work with and complement its infotainment systems! These features include the audio systems of the new Kia Optima, one of which is the Harman/Kardom QuantumLogic Premium Surround Sound system, which features 10 speakers, as well as a subwoofer and external amplifier. This guarantees that you'll get the best quality audio, no matter where you sit!
Additionally, 2019 Kia Optima also features Bluetooth® wireless technology, giving it the ability to access your technologies without ever taking your hands off the wheel!
So, if you're searching for a vehicle that offers a ton of great technology and infotainment features, look no further than the 2019 Kia Optima! With all the listed features, its guaranteed to please! Contact us today at Motion Kia to learn more!